A Comprehensive University
[an error occurred while processing this directive]
BAYER ENVIRONMENTAL AWARD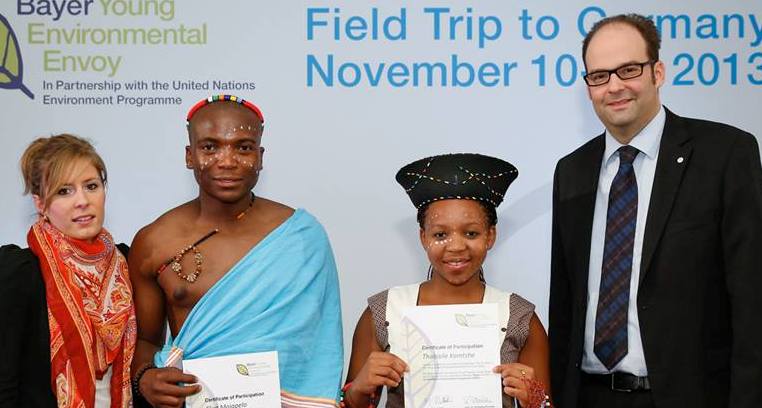 SAFEGUARDING THE ENVIRONMENT: Geraldine Deblon (United Nations Environment Programme Public Information Officer), Eliot Mojapelo, Thabisile Kamtshe and Bayer Corporate Communications' Dr Micheal Preuss.
YOUNG ENVIRONMENTALIST DREAMS OF GREENER PASTURES
The clear and present danger of food insecurity in her home town of Mbizana in the Eastern Cape has one young environmentalist scampering across the world to try and find solutions that will help keep the ravens at bay.
WSU's third-year environmental sciences student Thabisile Kamtshe was one of only two South Africans to join a group of close to 50 other environmentalists from 19 countries across the world on a week-long stay in the German city of Leverkusen during the 2013 Bayer Young Environmental Envoy study trip which ran from 10-15 November.
Kamtshe says with a bumper program which included project presentations, field excursions, lectures, experiments and discussions all centered on critical issues pertaining to the environment, her cup overflows with ideas of how to tackle the issue of the threat to food security in the country.
"This was a fantastic opportunity for me to broaden my horizons and think globally in trying to find sustainable solutions to manage our diminishing food supply. This trip has been invaluable and I have learnt so much from fellow environmentalists," she says.
Kamtshe, who after various engagements with other envoys, now dreams of one day starting a huge green field in her village, says all she wants to do is give back to her community.
"In an age where food demand is ever increasing, I want to create organic green fields that will produce food for my village. As a people whose main source of livelihood is our natural resources, it is imperative that we find ways to help create sustainable ways of consuming and producing food for our people. These must be sustainable solutions that will benefit future generations as well," says Kamtshe.
Kamtshe's tireless efforts as project officer of the South East African Climate Consortium Student Forum (SEACC-SF) at WSU's Mthatha campus have reaped great dividends – this is the body whose work she performs and afforded her the opportunity to go to Germany. It is through SEACC-SF that she preaches the environmental gospel to all those who're willing to lend her their ears at one of her many awareness campaigns and educational workshops.
"This forum plays a critical role in society with regards to responding to environmental issues that threaten the world's sustainability. More than anything we want to protect our
natural environment, and the rights of the current and future generations to an environment that is not harmful to their health or wellbeing," says Kamtshe.
She says people need to be educated and sensitised about issues regarding the environment so they can take better care of the resources available to them.
Quick-links
Latest news
Reading & writing centres 
Centre engagement
Faculty engagement
Rural development projects
[an error occurred while processing this directive]
[an error occurred while processing this directive]