A Comprehensive University
[an error occurred while processing this directive]
 NEWSLETTERS
PULSE
Pulse is the official WSU newsletter, bringing you fresh news, updates, events, opinion pieces as well as visuals of the University.
If you have any vibrant and newsworthy stories you would like us to cover from your campus, faculty or department, please email Thando Cezula or Sinawo Hermans or contact us by (telephone) 043 702 9378. More news is available on our front page, through latest news feed and in our archives which holds stories from 2013 and earlier.
LATEST EDITION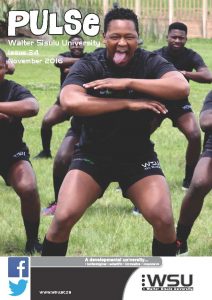 Issue 32, July 2015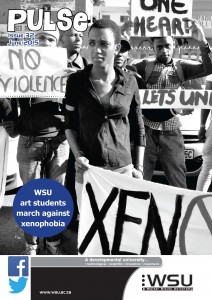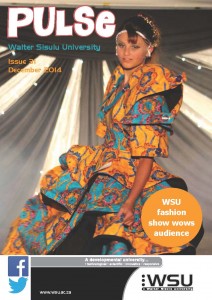 Issue 31, Dec/Jan
 2014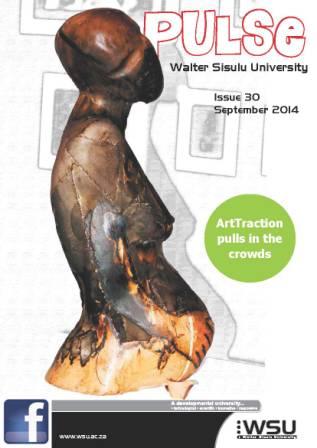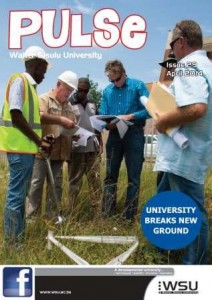 2013
QUARTERLY MEDIA REPORT 
http://bit.ly/2eChrmu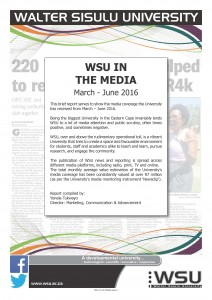 WSU quartely media report Issue 1 June 2016-ilovepdf-compresse_1
GRADUATION NEWSLETTER
2015
 Issue 1, May/June grad
THE TURNAROUND BULLETIN
The bulletin is produced to keep various stakeholders up-to-date on the progress of the turnaround strategy.  More details on the strategy are available.
2014
2013
2012
TURNAROUND MULTIMEDIA
The turnaround strategy is an important intervention in the University's metamorphosis. Watch the multimedia which captures its goals here!
ALUMNI NEWSLETTER
The WSU alumni newsletter seeks to keep the University community abreast about the lives and times of WSU alumni. More details on WSU alumni is available here.
VUVUZELA NEWSLETTER
The Faculty of Business, Management Sciences and Law – School of Public Relations, Media Studies and Law newsletter.
[an error occurred while processing this directive]
[an error occurred while processing this directive]