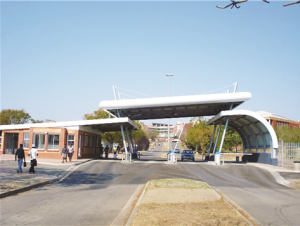 Walter Sisulu
The University is proud to be named after Walter Max Ulyate Sisulu, ANC deputy president and close friend of Nelson Mandela. In honour of this extraordinary political activist, the University awarded a posthumous honorary doctorate to the late Walter Sisulu in 2007. His wife, Albertina, also received an honorary doctorate from the former University of Transkei in 1992.
ABOUT WALTER SISULU 1912-2003
Walter Max Ulyate Sisulu was born in the village at Quthubeni at Engcobo in the Transkei region of the Eastern Cape on 18 May 1912-coincidentally the same year as the ANC was founded.
Sisulu joined the ANC in 1940 and it was through him that both Nelson Mandela and Oliver Tambo were brought into the organization. In 1944 he formed the ANC Youth League, with them, whose radical approach fundamentally transformed the ANC and the struggle against colonialism and apartheid. In 1949 he was elected Secretary General of the ANC.
In 1944 Sisulu married Albertina Nontsikelelo Mnyila and the marriage produced five children.
In the 1950s he was one of the leading figures in the Defiance Campaign. Between 1956 and 1961 Sisulu was constantly in court defending himself against a string of treason charges. Sisulu was one of the founders of Umkhonto Wesizwe, the ANC armed wing after major liberation organizations such as the PAC and the ANC were banned in 1960. Sisulu together with Mandela and other senior leaders of the ANC were caught and tried in the Rivonia Treason Trial. In 1964 they were sentenced to life imprisonment, most of which was spent on Robben Island.
Sisulu was released on 15th October 1989, after almost three decades in jail. He then served the ANC as its Deputy President. Sadly, Sisulu passed away on 5 May 2003 just before his 91st birthday.
Sisulu commanded respect from friends and foes because of the dignified manner with which he handled himself as well as the values he embraced. He remains a towering giant of South Africa and humanity's struggle for justice. His humility, ability to identify and promote leaders as well as his selflessness are some of his distinctive traits.
His family values and relationship with his comrade and wife can be described as a love relationship of the 21st century. Sisulu proved to be as faithful to the struggle as he was to his family.
It is an honour for WSU to be carrying the name of such a towering figure in human history. He is an embodiment of the values of selflessness, courage, humility, Ubuntu and compassion to which this University would like to aspire.
Three of his core values are used on WSU's academic crest:
Excellence
Wisdom
Integrity
In 2007, WSU awarded a posthumous honorary doctorate to the late Walter Sisulu; his wife Albertina also received an honorary doctorate from the former University of Transkei in 1992