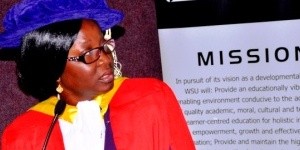 Professorial inaugural lectures
Landmark academic achievements continue to be made at the University, most notably during the inaugural addresses of the University's leading academic. In May 2013, WSU chemist Prof Adebola Oyedeji made history when she became the first ever female academic from the institution's chemistry and chemical technology department to deliver a professional inaugural lecture with her research into the economic and medicinal values of plants.



LATEST PROFESSORIAL INAUGURAL LECTURES
Prof O Oyebola, Tapping into the world of terpenoids [20 May 2014]

Prof N Sokhela, Rehabilitation of medical health care users in the Eastern Cape [29 April 2014]

2013
Prof Ernesto Virgilio Blanco-Blanco, The effects of diabetes in the former Transkei [29 May 2013]
2012
Prof O Alonso-Betancourt, Suicide: A global overview and focus on the South African situation [18 April 2012]
Prof G Wright, Developing health informatics as a new scientific discipline [25 July 2012]
2010
Prof SP Songca, Photo-Dynamic Therapy for the Developing World [18 November 2010]
Prof K Mfenyana, Towards Medical Education that is Responsive to Community Needs, while recognising Community Assets and capabilities [7 October 2010]
Prof C Anyangwe, The revolutionary overthrow of constitutional orders in Africa [31 August 2010]
Prof SN Mishra, Reflections of a Mathematician [21 July 2010]
Prof KJ Mammen, Towards creating a legally literate WSU community for today and tomorrow [12 May 2010]
Prof EN Kwizera, Twenty five years of training doctors at WSU: How have we responded to the 1983 UNITRA Council Guidelines? [20 April 2010)
2009
Prof ND Jumbam, Low-Valent Titanium Induced Carbonyl Coupling Reactions [19 May 2009]
Prof A Stepien, Oesophageal cancer in the former Transkei [20 April 2009]
2008
Prof GA Buga, The intriguing and elusive nature of hypertensive disorders of pregnancy [02 October 2008]
 
 
 
Contact us
For more information, contact us in East London on (telephone) +27(0) 43 708 5444 and Mthatha on (telephone) +27(0) 47 502 2819. Contact details for our team.