A Comprehensive University
[an error occurred while processing this directive]
COMMUNITY ENGAGEMENT OVERVIEW
The Concept Document on Community Engagement, Service-Learning Policy, Work-Integrated Learning Policy, and Professional Community Service Policy govern the community engagement activities at WSU.
The 2009 November SENATE meeting adopted the CE Infusion Model and the following Community Engagement definition by Pretorius (2003) as a WSU working definition.
The partnership of university knowledge and resources with those of the external community to enrich scholarship, research, curricula content and process and benefit students while addressing community needs, problems, and challenges (Pretorius, 2003).
However, it must be emphasised that in the WSU context, the ultimate goal of Community Engagement is development.
It is important to contextualize our own understanding of community as a concept that embraces all types of communities that WSU deals with including, but not limited to business, government, surrounding communities, the education sector and so on.
The INFUSION MODEL – The Community Engagement Model that has been adopted at WSU.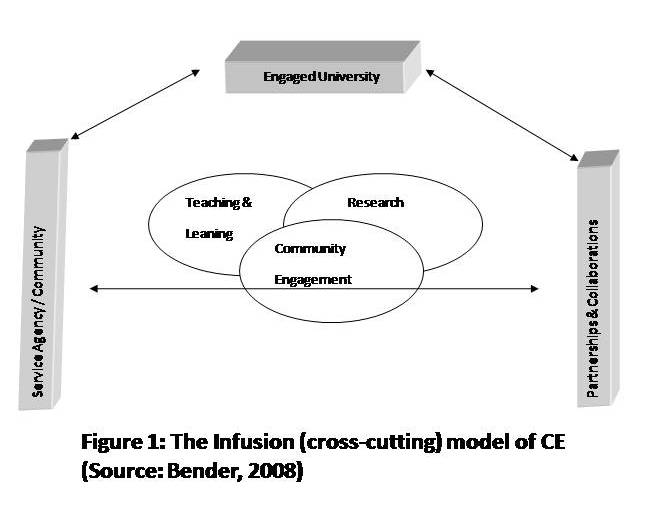 Some of the reasons cited for choosing the infusion model were:
Significant engagement – embedded, ownership, life long relationship NOT a token
University & Community to own each other
Emphasise involvement of potential graduates
Problem Based Learning (PBL) including project/patient based learning
Problems must be in the community.
Read on our centre  and faculty  engagements here.
Quick-links
International partnerships
Community engagement
Faculty engagement
Community & International Partnerships home
[an error occurred while processing this directive]
[an error occurred while processing this directive]